ACS Sacramento Sponsored Events
ACS Sacramento Section sponsors a number of events each year, but two of the bigger events that we sponsor are in the Spring: The R. Bryan Miller Symposium at UC Davis and the ACS Sacramento Section 66th Annual Meeting and Steak Barbecue at the University of the Pacific.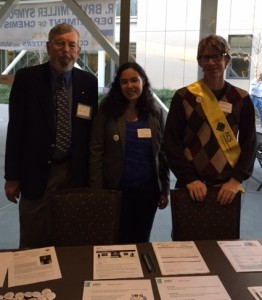 The Miller Symposium occurred last week. John Berg, Kate Gibson, and I were tabling for the section at the event. We got a couple of new members to join ACS and 12 new people to join our Facebook page. We also handed out a bunch of our "ACS Sacramento" pins. Many thanks to John Berg for taking all of the pictures in our Miller Symposium Gallery in this newsletter.
Last year was my first year going to the UoP Meeting and Barbecue. It was great to get down to Stockton and meet our colleagues in the Chemistry Department there. It was a good seminar, and this year's seminar looks equally inviting. Plus, there is great food! Look for pictures of this event in a future newsletter.
Earth Day is also coming up, and we have a poem contest about it for K-12 students in our section with prizes!
---
---