By Daniel Rosenthal
Organic chemistry is a leading reason students avoid STEM careers – from medicine to bioengineering to chemistry. Nationally, an estimated 30,000 would-be doctors do not get accepted to medical school, many because of organic chemistry. In fact, at UC Berkeley, organic chemistry has twice the fail rate compared to other courses.  
In their organic chemistry classes, UC Berkeley undergraduates Prerak Juthani and Billal Ahmed saw hundreds of overwhelmed and stressed students. As UC Berkeley organic chemistry tutors, they helped many puzzled students by making problem solving a game.
That is why they created React!
React! is a revolutionary multiplayer game that can help anyone learn college-level organic chemistry.
Developed by 13 UC Berkeley Chemistry and Biology students, React! makes learning organic chemistry fun by turning it into a challenging, yet rewarding puzzle, instead of having to memorize an overwhelming amount of facts.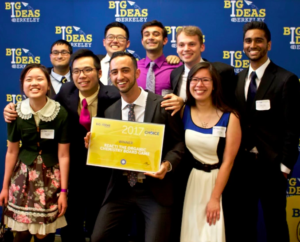 Out of 320 international submissions, business leaders chose React! as one-of-six finalists for the Big Ideas startup competition.
React! has hundreds of student volunteers – from UC Berkeley to UC Davis to Stanford – playtesting the React! board game and the response is overwhelming.
"Fun game!" says the Director of Undergraduate Chemistry at UC Berkeley, Dr. Anne Baranger.
"Super engaging," says UC Berkeley Chemistry professor, Dr. Pete Marsden.
This May 1, React! will launch a Kickstarter campaign to raise money to make the game an app and board game that can be used by millions of students each year.
"Our game is the rocket," says React! Founder, Prerak Juthani, "We need your fuel. Help us launch!"
For more information, visit: www.ReactGame.com. Contact us at ochemboardgame@gmail.com.